Pizza Hut
No 18, Old No 42, Ramanashree Arcade

MG Road

Bengaluru

-

560001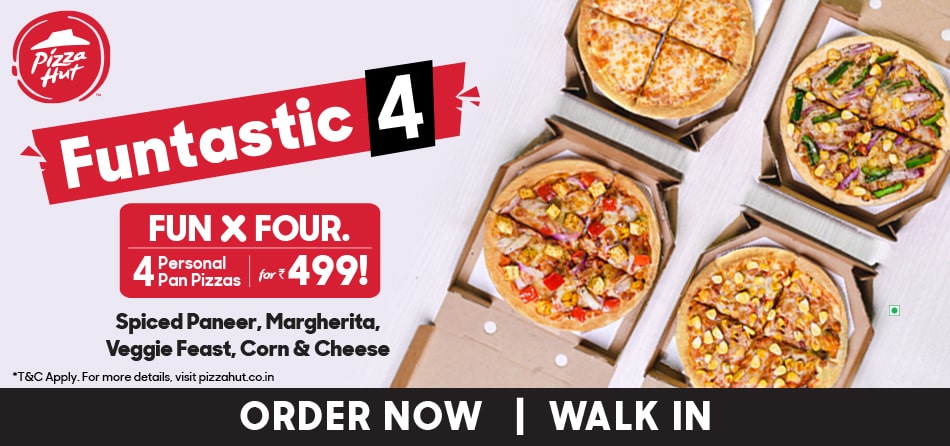 Social Timeline
Pizza Hut is celebrating #TreatWaliDiwali. Avail 50% Off on our medium pan pizzas and be a part of the festivities. Order Now: bit.ly/DontCook_Wednesday #DontCookWednesday #TreatWaliDiwali #DontCookWednesday
Posted On:
18 Oct 2017 12:06 PM
We are pulling out all the stops to make this Diwali superb, just for you. Celebrate #TreatWaliDiwali with us and stay tuned to our page for more! Order a #TripleTreatBox now: bit.ly/OrderTTB #TreatWaliDiwali #TripleTreatBox
Posted On:
17 Oct 2017 7:32 PM
If you would get free treat for a year, which one would you pick?
Posted On:
16 Oct 2017 8:11 PM
Do you have a pasta lover boss? Tag away! #BossDay #BossDay
Posted On:
16 Oct 2017 3:00 PM
You will be remembering this meal for a long time. Order online and ask for our creamilicious Spanish Tomato Pasta. https://t.co/AvBBd3YpBD
Pizza Takeaway

Pizza Delivery

Pizza Restaurant
Best Pizza Delivery Near MG Road
Best Pizza Near MG Road
Best Pizza Restaurant Near MG Road
Best Pizza Takeaway Near MG Road
Best Restaurant Near MG Road
Dine In
Dine In Near MG Road
Fresh Pizza
Home Delivery
Meal Near MG Road
Online Food
Order Online
Pizza Delivery Near Me
Pizza Delivery Near MG Road
Pizza Home Delivery
Pizza Hut Delivery Number
Pizza Hut Online
Pizza Near Me
Pizza Near MG Road
Pizza Restaurants Near Me
Pizza Restaurants Near MG Road
Pizza Takeaway Near MG Road
Restaurant
Restaurants Near Me
Restaurants Near MG Road
Takeaway
Takeaway Restaurant Near MG Road
MG Road Restaurants
Restaurant near me open now
restaurants near MG Road, Bengaluru