Pizza Hut
FC 1,SN 15 & 16, One Awadh Centre, Gomti Nagar

Vibhuti Khand

Lucknow

-

226016

12717066000493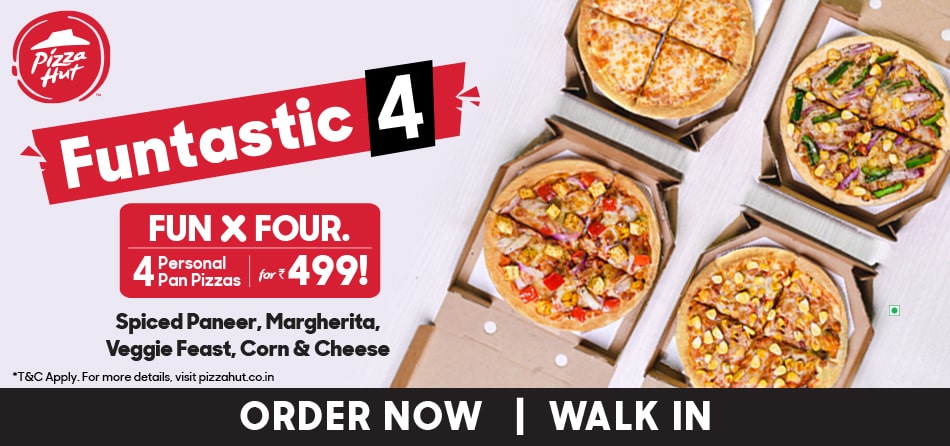 Social Timeline
Diary found!!! Not just any ordinary diary, it's Agent Pizza's planner. And now we know where he's going to be this Friday, 19th of April. So guys, head to Ambience Mall, Gurgaon & spot him between 5pm to 9pm, say the magic code 'Sabse tasty Pizzas at 99' to win an exclusively curated Pizza Hut kit! #MissionTastiestPizza #AgentPizza #TastiestPizzasAt99 #MissionTastiestPizza #AgentPizza #TastiestPizzasAt99
Posted On:
17 Apr 2019 4:58 PM
Celebrate, no matter who wins today's match. Pizzas starting @ Rs.99. #TastiestPizzasAt99 #TastiestPizzasAt99
Posted On:
08 Apr 2019 8:08 PM
All you gotta do is tag 6 people in the comments section and stand a chance to win FREE PIZZAS FOR A YEAR. T&C apply. *This is not a prank! T&C apply: https://bit.ly/2TOtwIS
Posted On:
01 Apr 2019 2:00 PM
There is only one way to celebrate India's historic win against New Zealand. A pizza party. #INDvsNZ #INDvsNZ
Posted On:
28 Jan 2019 7:29 PM
The big match is here! So go ahead and cheer Team India for the win with a big snack.
Posted On:
03 Jan 2019 1:12 PM
A big congratulations to all the winners! You just won free vouchers from Pizza Hut which will reach your inbox sho… https://t.co/ueG3oTnEKh
Pizza Takeaway

Pizza Restaurant
Best Pizza Delivery Near Vibhuti Khand
Best Pizza Near Vibhuti Khand
Best Pizza Restaurant Near Vibhuti Khand
Best Pizza Takeaway Near Vibhuti Khand
Best Restaurant Near Vibhuti Khand
Dine In
Dine In Near Vibhuti Khand
Fresh Pizza
Home Delivery
Meal Near Vibhuti Khand
Online Food
Order Online
Pizza Delivery Near Me
Pizza Delivery Near Vibhuti Khand
Pizza Home Delivery
Pizza Hut Delivery Number
Pizza Hut Online
Pizza Near Me
Pizza Near Vibhuti Khand
Pizza Restaurants Near Me
Pizza Restaurants Near Vibhuti Khand
Pizza Takeaway Near Vibhuti Khand
Restaurant
Restaurants Near Me
Restaurants Near Vibhuti Khand
Takeaway
Takeaway Restaurant Near Vibhuti Khand
Vibhuti Khand Restaurants
Restaurant near me open now
restaurants near Vibhuti Khand, Lucknow