Pizza Hut
18 Bigha, James Sarani Road, Behala, Muradpur

Sarada Pally

Kolkata

-

700008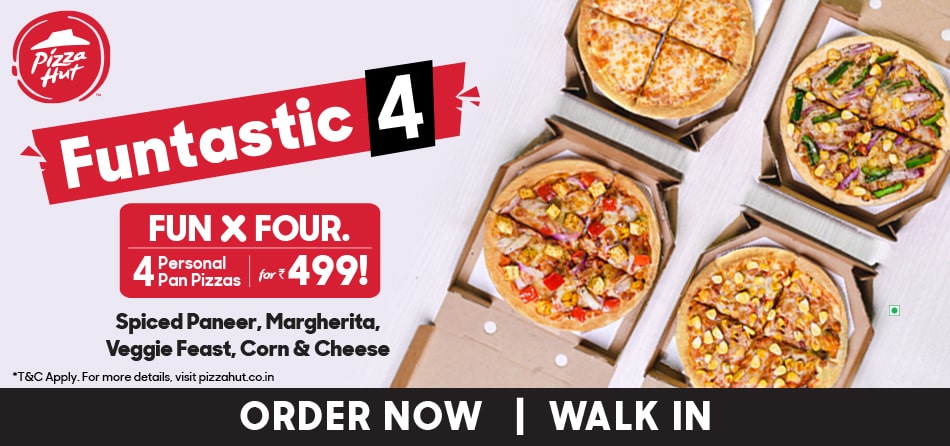 Social Timeline
New Year calls for FEASTING so call your squad & feast your way through 2021 with your 4 favourite personal pan pizzas @499 only! 😍 . HutLovers #2021 #Pizza #Funtastic4 #Meals #OrderNow #2021 #Pizza #Funtastic4 #Meals #OrderNow
Posted On:
04 Jan 2021 12:30 PM
@Shivesh17 and his followers have been coming up with the most #wicked guesses. What do you think makes the black pizza black? If you make the right guess before we reveal it, you can win exclusive #WickedBlack merch. All the best! #DareToTry *Only available in Gurugram ~ http://tiny.cc/eqdu8y• • • #Repost @shivesh17 • • • • • • Howwww is the new @pizzahut_india black pizza black? I've run out of guesses and haven't been able to get it right. What do you think? The all new black pizza is now available across Pizza Hut outlets in Gurgaon. I attended the very fun launch yesterday and loved the pizza so much that I got some back to the studio for my team🍕❤️. A team that eats pizza together, works hard together! #WickedBlack #DareToTry #pizza #yum #wicked #WickedBlack #DareToTry #Repost #pizza #yum
Posted On:
07 Jul 2019 5:34 PM
If it was up to us, everyday would be Mother's Day. Here is a video capturing all the fun we had this Sunday.
Posted On:
14 May 2019 3:10 PM
Pizza Takeaway

Pizza Delivery

Pizza Restaurant
Best Pizza Delivery Near Sarada Pally
Best Pizza Near Sarada Pally
Best Pizza Restaurant Near Sarada Pally
Best Pizza Takeaway Near Sarada Pally
Best Restaurant Near Sarada Pally
Dine In
Dine In Near Sarada Pally
Fresh Pizza
Home Delivery
Meal Near Sarada Pally
Online Food
Order Online
Pizza Delivery Near Me
Pizza Delivery Near Sarada Pally
Pizza Home Delivery
Pizza Hut Delivery Number
Pizza Hut Online
Pizza Near Me
Pizza Near Sarada Pally
Pizza Restaurants Near Me
Pizza Restaurants Near Sarada Pally
Pizza Takeaway Near Sarada Pally
Restaurant
Restaurants Near Me
Restaurants Near Sarada Pally
Takeaway
Takeaway Restaurant Near Sarada Pally
Sarada Pally Restaurants
Restaurant near me open now
restaurants near Sarada Pally, Kolkata