Pizza Hut
House No 668, Gr & Mezzanine Flr

Sadar

Nagpur

-

440001

Near Raj Bhavan Residency Rd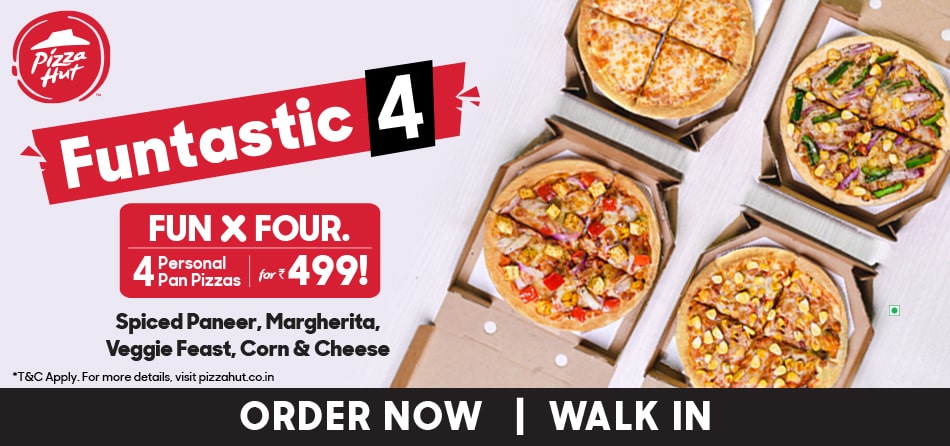 This restaurant is closed. Please check out the Nearby Restaurants below
Social Timeline
Good at spotting pizzas? Tell us the number of Pizzas you see & one lucky winner wins a Pizza Hut GV worth Rs. 500! #ThinkPizzaThinkPizzaHut #ThinkPizzaThinkPizzaHut
Posted On:
23 Mar 2017 11:29 AM
Spot Pizzas Contest
Posted On:
23 Mar 2017 11:28 AM
Congratulations to the winners of the #WorldStoryTellingDay contest! Winners are requested to DM their contact details. #WorldStoryTellingDay
Posted On:
22 Mar 2017 4:00 PM
If you love pizzas than you'll probably guess 5 ingredients easily! Come on, we know you can! #ThinkPizzaThinkPizzaHut #ThinkPizzaThinkPizzaHut
Posted On:
21 Mar 2017 11:30 AM
Wear your writer's cap and complete the above story in 30 words. Top 5 writers will win Pizza Hut Vouchers!
Posted On:
20 Mar 2017 5:48 PM
Pizza Takeaway

Pizza Delivery

Pizza Restaurant
Best Pizza Delivery Near Sadar
Best Pizza Near Sadar
Best Pizza Restaurant Near Sadar
Best Pizza Takeaway Near Sadar
Best Restaurant Near Sadar
Dine In
Dine In Near Sadar
Fresh Pizza
Home Delivery
Meal Near Sadar
Online Food
Order Online
Pizza Delivery Near Me
Pizza Delivery Near Sadar
Pizza Home Delivery
Pizza Hut Delivery Number
Pizza Hut Online
Pizza Near Me
Pizza Near Sadar
Pizza Restaurants Near Me
Pizza Restaurants Near Sadar
Pizza Takeaway Near Sadar
Restaurant
Restaurants Near Me
Restaurants Near Sadar
Takeaway
Takeaway Restaurant Near Sadar
Sadar Restaurants
Restaurant near me open now
restaurants near Sadar, Nagpur
Sitabuldi

Nagpur - 440012

Restaurants in Sitabuldi

Ayodhya Nagar

Nagpur - 440003

Restaurants in Ayodhya Nagar

South Ambazari Rd

Nagpur - 440010

Restaurants in South Ambazari Rd