Pizza Hut
Piyush Mahendra Metropolitian Mall, No 28 & 29, G27

New Industrial Town

Faridabad

-

121001

Opposite Dushahara Ground

10818003000301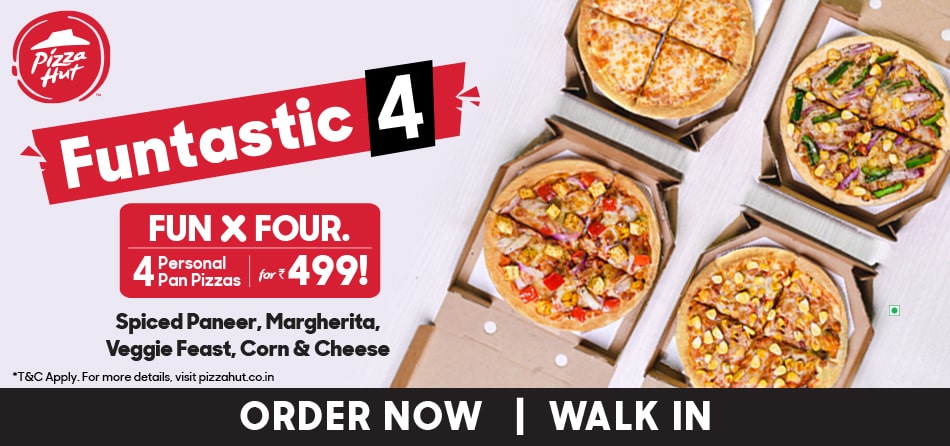 Social Timeline
Fun Time Again! Looking for a reason to Visit Pizza Hut today? Here it is! Add up the first letter of your first name + 'ka' + first letter of your last name and share the result with us! Don't forget to share and tag your friends here! Let the Fun begin!
Posted On:
17 Dec 2016 1:00 PM
9 days to #Christmas! Have you planned your party menu yet? #Christmas
Posted On:
16 Dec 2016 6:56 PM
Straight from the oven, onto your plates! #GarlicBreads at its best #GarlicBreads
Posted On:
15 Dec 2016 2:59 PM
Chicken Supreme for the soul! Tag all the Chicken Supreme lovers to wish them a Happy Chicken Supreme Day!
Posted On:
14 Dec 2016 1:30 PM
Cheers to all the 'Catch Pac-Man with Pizza' contest winners. Please DM us your email id and phone number for us to process your prize! Congrats again!
Posted On:
13 Dec 2016 12:04 PM
#IfPizzasCouldThank, they would thank all the wonderful retail employees who work tirelessly through days and nights to make our lives beautiful! #HappyRetailEmployeesDay #IfPizzasCouldThank #HappyRetailEmployeesDay
Posted On:
12 Dec 2016 1:23 PM
Weekend can't get better with some sumptuous options from Pizza Hut! Aren't you ordering already? Click here: http://bit.ly/HaveAGreatSunday
Posted On:
11 Dec 2016 11:46 AM
Post Screenshot of Pac Man eating Pizza, can you? 5 lucky winners get Rs. 500 Gift Cards from Pizza Hut. *Conditions Apply
Posted On:
10 Dec 2016 12:06 PM
Pizza Takeaway

Pizza Delivery
Best Pizza Delivery Near New Industrial Town
Best Pizza Near New Industrial Town
Best Pizza Restaurant Near New Industrial Town
Best Pizza Takeaway Near New Industrial Town
Best Restaurant Near New Industrial Town
Dine In
Dine In Near New Industrial Town
Fresh Pizza
Home Delivery
Meal Near New Industrial Town
Online Food
Order Online
Pizza Delivery Near Me
Pizza Delivery Near New Industrial Town
Pizza Home Delivery
Pizza Hut Delivery Number
Pizza Hut Online
Pizza Near Me
Pizza Near New Industrial Town
Pizza Restaurants Near Me
Pizza Restaurants Near New Industrial Town
Pizza Takeaway Near New Industrial Town
Restaurant
Restaurants Near Me
Restaurants Near New Industrial Town
Takeaway
Takeaway Restaurant Near New Industrial Town
New Industrial Town Restaurants
Restaurant near me open now
restaurants near New Industrial Town, Faridabad