Pizza Hut
SN 17, Thakur Cinema & Welfare Centre, Thakur Village

Kandivali East

Mumbai

-

400101

Near Thakur College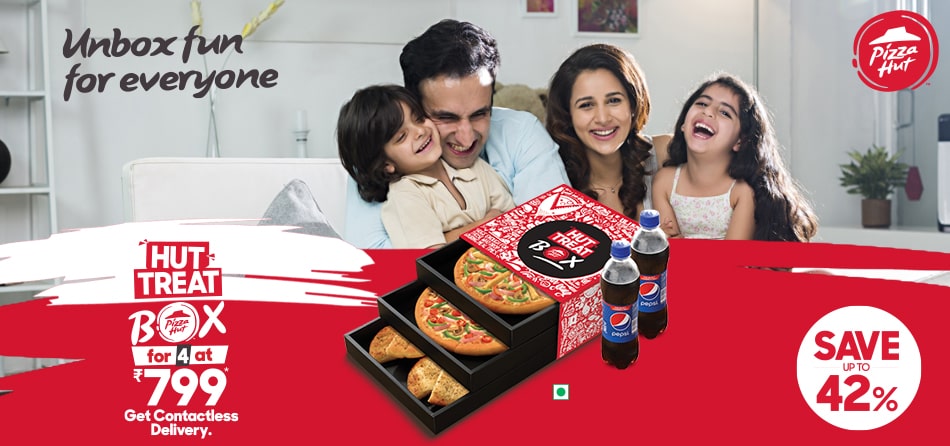 Social Timeline
Srinagar, Pizza Hut is in your city 🌃 for the FIRST time ever! Enjoy our Hut Treat Meal for 4 starting at 799/- only 😍 with our safe & contactless Dine-in 🍽, Delivery or Takeaway experience! #TrustInEveryBite ❤️ Address to our new restaurant: Pizza Hut, 🍕City Walk Mall 3rd Floor MA Road Srinagar, opposite Catholic Church, 190001 Contact number: 0194-3518051 📱 #TrustInEveryBite
Posted On:
19 Sep 2020 5:44 PM
Srinagar, we're in your city 🌃 for the FIRST time! Enjoy our Hut Treat Meal for 4 starting at 799/- 😍 with our saf… https://t.co/mYIMtgiH0V
Why experience FOMO 🤔 when you can stay-in 🏠 & have your piping hot favourites n chill. 🍕🛏️ 📺 Enjoy JOMO & call for… https://t.co/OqOiMDVqql
Missing your favorite #HutHangout but worried about safety? 😷 Be rest assured! 😎 Your favourites are cooked safely, and the only hands to touch your food are YOURS! ☝🏻 So, visit your nearest Hut today 🏃🏻‍♀️🏃🏻to experience a safe, digitized, and #ContactlessDineIn experience. 🍕🍽️ #HutLovers #HutHangout #ContactlessDineIn #HutLovers
Posted On:
17 Sep 2020 6:46 PM
Your Wednesday just got better! 🥳 The perfect day to indulge in some veggie goodness. 🤤 Order your delicious favorites today 📲 with our Buy 1 Get 1 FREE offer 🍕🍕 & experience #TrustInEveryBite with Pizza Hut. ❤️ Opt for #ContactlessDelivery for complete safety! #Freepizza #favourites #midweekblues #HutLovers #TrustInEveryBite #ContactlessDelivery #Freepizza #favourites #midweekblues #HutLovers
Posted On:
16 Sep 2020 3:41 PM
Reply with 😛 if you are against ketchup on pizza!
Your meal, your choice! That's what you get with My Box! Pick and choose which delicious pizza you want & get garlic bread and Pepsi to it as well! A 3-course meal starting at just Rs.179. Enjoy #TrustInEveryBite and experience #ContactlessDelivery Order Now! #TrustInEveryBite #ContactlessDelivery
Posted On:
15 Sep 2020 12:30 PM
Pizza Takeaway

Pizza Delivery
Best Pizza Delivery Near Kandivali East
Best Pizza Near Kandivali East
Best Pizza Restaurant Near Kandivali East
Best Pizza Takeaway Near Kandivali East
Best Restaurant Near Kandivali East
Dine In
Dine In Near Kandivali East
Fresh Pizza
Online Food
Order Online
Pizza Delivery Near Me
Pizza Delivery Near Kandivali East
Pizza Home Delivery
Pizza Hut Online
Pizza Near Me
Pizza Near Kandivali East
Pizza Restaurants Near Me
Pizza Restaurants Near Kandivali East
Pizza Unlimied Menu
Pizza Unlimited
Restaurants Near Me
Restaurants Near Kandivali East
Takeaway
Takeaway Restaurant Near Kandivali East
Unlimited Pizza Menu
Unlimited Pizza Near Near Kandivali East
Unlimited Pizza Offer
Unlimited Pizza Party
restaurants near Kandivali East, Mumbai