Pizza Hut
No 117D, 1st Floor, Food Court, Cyber City

DLF Phase 2

Gurgaon

-

122001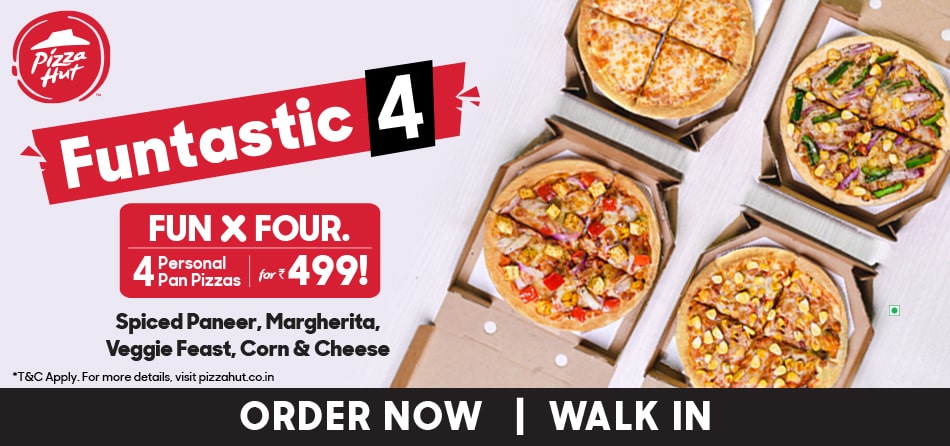 Social Timeline
New Year calls for FEASTING so call your squad & feast your way through 2021 with your 4 favourite personal pan pizzas @499 only! 😍 . HutLovers #2021 #Pizza #Funtastic4 #Meals #OrderNow #2021 #Pizza #Funtastic4 #Meals #OrderNow
Posted On:
04 Jan 2021 12:30 PM
@Shivesh17 and his followers have been coming up with the most #wicked guesses. What do you think makes the black pizza black? If you make the right guess before we reveal it, you can win exclusive #WickedBlack merch. All the best! #DareToTry *Only available in Gurugram ~ http://tiny.cc/eqdu8y• • • #Repost @shivesh17 • • • • • • Howwww is the new @pizzahut_india black pizza black? I've run out of guesses and haven't been able to get it right. What do you think? The all new black pizza is now available across Pizza Hut outlets in Gurgaon. I attended the very fun launch yesterday and loved the pizza so much that I got some back to the studio for my team🍕❤️. A team that eats pizza together, works hard together! #WickedBlack #DareToTry #pizza #yum #wicked #WickedBlack #DareToTry #Repost #pizza #yum
Posted On:
07 Jul 2019 5:34 PM
If it was up to us, everyday would be Mother's Day. Here is a video capturing all the fun we had this Sunday.
Posted On:
14 May 2019 3:10 PM
Nothing gives us more pleasure than being a part of your celebrations. We thank all the awesome moms and their cute kids for coming into Pizza Hut to celebrate Mother's Day. Hope you had some great food and great fun. Happy Mother's day once again to all the awesome mums out there!
Posted On:
13 May 2019 11:07 AM
Vinod & Nirmal Katyal~ "Our parents arranged our marriage 34 years ago, and before that, we hadn't even seen each other. We never spoke on phone or met. But we had a lot of fun after we got married. He used to travel extensively for work, and to my surprise, wrote one letter every day, and that too 15, 20 pages long.. I have a suitcase full of letters still with me. I think that's when we really fell in love with each other. Knowing that he cared deeply even when he was away, was honestly the best thing about our marriage." #PizzaHutForLove (This #ValentinesDay, Pizza Hut brings to you love stories of beautiful couples across different age groups, sexual orientation, ethnicity and religion who came together to celebrate love and inclusivity.) #PizzaHutForLove #ValentinesDay
Posted On:
14 Feb 2019 4:40 PM
If you decide to have fun on a Monday, no one can stop you. Just order our delicious Pan Pizzas and make your Monda… https://t.co/OC9ScSb0uX
Pizza Takeaway

Pizza Delivery

Pizza Restaurant
Best Pizza Delivery Near DLF Phase 2
Best Pizza Near DLF Phase 2
Best Pizza Restaurant Near DLF Phase 2
Best Pizza Takeaway Near DLF Phase 2
Best Restaurant Near DLF Phase 2
Dine In
Dine In Near DLF Phase 2
Fresh Pizza
Home Delivery
Meal Near DLF Phase 2
Online Food
Order Online
Pizza Delivery Near Me
Pizza Delivery Near DLF Phase 2
Pizza Home Delivery
Pizza Hut Delivery Number
Pizza Hut Online
Pizza Near Me
Pizza Near DLF Phase 2
Pizza Restaurants Near Me
Pizza Restaurants Near DLF Phase 2
Pizza Takeaway Near DLF Phase 2
Restaurant
Restaurants Near Me
Restaurants Near DLF Phase 2
Takeaway
Takeaway Restaurant Near DLF Phase 2
DLF Phase 2 Restaurants
Restaurant near me open now
restaurants near DLF Phase 2, Gurgaon