Pizza Hut
No 117D, 1st Floor, Food Court, Cyber City

DLF Phase 2

Gurgaon

-

122001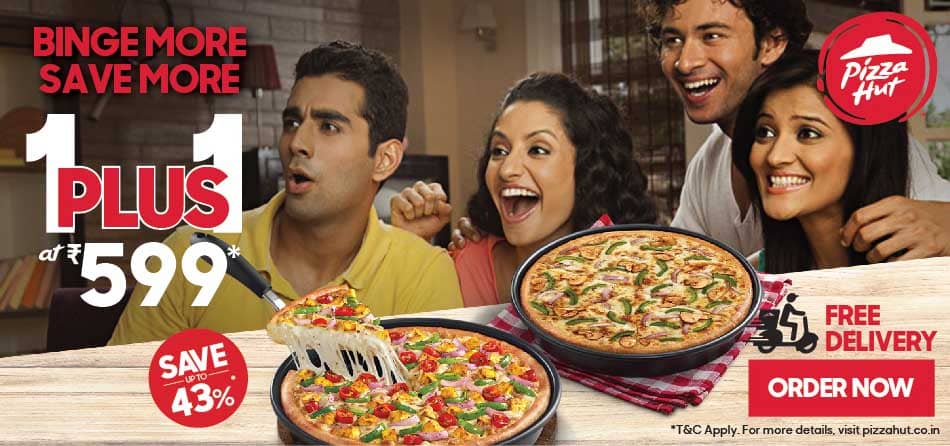 Social Timeline
Let the Lohri celebrations begin with laughter, dance and Pizza! #HappyLohri #HappyLohri
Posted On:
13 Jan 2017 8:21 PM
Life Goals, isn't it? Share if you wish this person to arrive in your life soon!
Posted On:
11 Jan 2017 2:05 PM
There's a reason why we call it #SocialNetworkBox! Ordering with your gang now? Here's the Link : bit.ly/OrderATTBNow #SocialNetworkBox
Posted On:
10 Jan 2017 4:24 PM
Happiness comes from seeing #PizzaHut's delivery superstar holding your Triple Treat Box that's going to you all together! #SocialNetworkBox #PizzaHut #SocialNetworkBox
Posted On:
09 Jan 2017 5:04 PM
Happiness comes wearing a cap which says "Pizza Hut". Share if this guy's arrival makes you jump with joy!
Posted On:
09 Jan 2017 12:33 PM
If you are confused on what to order, Paneer is the way to go! Pizza Hut's Paneer Vegorama Pizza is made to delight you! Order Here: bit.ly/PaneerVegoramaForMe
Posted On:
08 Jan 2017 1:00 PM
Wondering how to make your party much more fun tonight? Simple - Order a Triple Treat Box with your friends. Order Now @ bit.ly/OrderATTBNow #SocialNetworkBox #SocialNetworkBox
Posted On:
07 Jan 2017 12:34 PM
Captain cool may have bid farewell to his Captaincy but the captain of scrumptious hot food will always be around at bit.ly/CaptainHot
Posted On:
06 Jan 2017 7:30 PM
Thinking Outside the Box? Now it's time to think inside the box with our new Triple Treat Box! Order yours Now : bit.ly/OrderATTBNow #SocialNetworkBox #SocialNetworkBox
Posted On:
06 Jan 2017 5:19 PM
Pizza Takeaway

Pizza Delivery

Pizza Restaurant
Best Pizza Delivery Near DLF Phase 2
Best Pizza Near DLF Phase 2
Best Pizza Restaurant Near DLF Phase 2
Best Pizza Takeaway Near DLF Phase 2
Best Restaurant Near DLF Phase 2
Dine In
Dine In Near DLF Phase 2
Fresh Pizza
Home Delivery
Meal Near DLF Phase 2
Online Food
Order Online
Pizza Delivery Near Me
Pizza Delivery Near DLF Phase 2
Pizza Home Delivery
Pizza Hut Delivery Number
Pizza Hut Online
Pizza Near Me
Pizza Near DLF Phase 2
Pizza Restaurants Near Me
Pizza Restaurants Near DLF Phase 2
Pizza Takeaway Near DLF Phase 2
Restaurant
Restaurants Near Me
Restaurants Near DLF Phase 2
Takeaway
Takeaway Restaurant Near DLF Phase 2
DLF Phase 2 Restaurants
Restaurant near me open now
restaurants near DLF Phase 2, Gurgaon